hace 4 años · 6 min. de lectura · visibility ~10 ·
SOCIAL MEDIA TRENDS FOR "2018 AND BEYOND" FEATURING JAZ GREER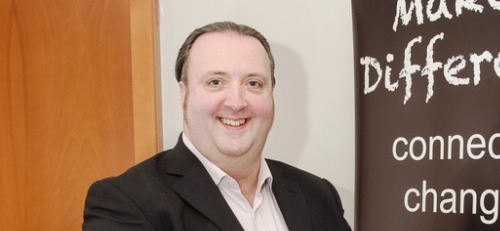 The world of Social Media changes and adapts on a daily basis. Trying to keep up with the changes consumes at least 2 days per week of time for the full-time Social Media and Social Selling practitioner and that's on top of delivering for clients, experimenting and personal development!
Keeping up with changes is one thing, but predicting what will happen over the next few weeks let alone a year in advance is bordering on spread betting and dabbling in the futures markets…Social media expert Jaz Greer has knowledge, experience, and authority plus a massive amount of day to day experience that allows him to have a crack at discerning social media trends and how they will either start or grow exponentially for 2018 and beyond! 
JAZZ GREER 3 TRENDS TO WATCH FOR 2018 AND BEYOND:

By Jan Barbosa
1. The need to get attention through notifications
Social Media Marketing can broadly be an art of throwing mud, hashtags and content at the Social Wall and seeing what sticks and then working and refining your strategy from there – at least that's what I observe over quick a few years of doing this…
Yes, there are great advances in targeting and identifying trends, influencers and gathering data from across the web and Social Channels. This is aided immensely when you are able to access and use superb tools such as Talkwalker and more recently those provided by Brand24.com These are essential for Social Listening and Data analysis, but is that enough?
How do you engage people and get their attention even after Socially Listening and Identifying your Target Markets? Just posting content with the most popular Hashtags and Images or Videos does not always get peoples attention – it just ends up absorbed in the noise so common now in the Social Streams and Feeds.
With the increase in Social Automation through tools such as HootSuite, eClincher and Social Pilot to name just a few, more people are posting but not being present in the feeds and on the platforms in real time. Engagement has decreased massively while traffic has exploded on these platforms because of the Power of Social Automation. Knowledge abounds but Wisdom is often hard to find….but that is an aside… People no longer trawl through their feeds regularly so getting attention let alone engagement is at a premium
This is where we need to be triggering Notifications in peoples Social Channels. Yes, we got to light up that little bell and get people to see we are knocking on their Social Door!
When I was developing my skills in Social and especially in Google+ I had a brilliant mentor in Martin Shervington and the Plus Your Business Community. In that community Martin got us focussed on cutting through the noise and getting that Notification Bell dinging! Yes, we literally looked at how to Socially get in people faces and on their radar and the techniques I learned and developed from there work – that's how I have grown my personal brand and profile after all!
Thanks to Martin I have been developing these skills across all the Social Platforms and especially in the field of Social Selling. Being front of mind and getting noticed is Premium now for any serious online activity, and if we are not focussed on this then we are doing ourselves and our clients a disservice…
So, I predict that in 2018 and beyond, we will see more people Direct Messaging, Direct Tweeting and @ mentioning people in posts and calling them into a conversation to get noticed. This is a skill to be unfolded another day, but Jan Barbosa is a King in utilizing this technique across platforms so have a look at his posts and learn!
There will be a rise in sharp marketers and Social Sellers refining their targeting and then engage in Direct Notification Triggering through Direct Messages, Posts and @Mentions…. you need to get on board with these techniques now or else risk being left behind in the Marketplace!
2. Ads on Social Platforms will become the Norm and vital for ALL Businesses
Yes, we have been warned not to build our businesses on rented land and our followers are not really our followers if we cannot reach and engage them. This is especially true when platforms like Facebook, Instagram, and Linkedin, through Algorithms and Pay To Reach Techniques, put us in the corner of having to pay to play and stay in the game. It's going to get more frequent and needs to be built into every strategy and plan for every business in 2018 – we need to invest more in Ads to reach our followers, communities, tribes target markets!
This practice will spread to communities, groups on Facebook and soon organic reach will be confined to history…. it's no longer IF but WHEN this happens and I predict 2018 will be the year that Facebook closes the loopholes and shortcuts to organic reach and force us all to Pay to Play
There will also be an increase in people focussing on Ad Retargeting across platforms and blending Facebook Ads, Google Ads and the New Kid on the Social Bloc – Bots to increase engagement and get momentum on the journey down the Sales Funnel!
Increasing in 2018 we will see people investing in Facebook Messenger use in campaigns to engage people in direct conversation and short-circuiting the phone and email….and Bots will be part of that customer engagement and travel journey so time to get on the Bot Wagon!
So have you brushed up your skills in SocialAds across the platforms? Have you invested in training and development? If not put it top of your list and budget for your Business Now and in 2018 because you will need to be skilled in Facebook Ads, Instagram Ads, Linkedin and Twitter just to stay in the game in 2018!
And don't forget the Bots, they have arrived in 2017 and will take over a large part of not just Sales Funnel Automation but also customer retention and journey in 2018!
3. Interruption Marketing will Morph back into play due to Data Restrictions and Risks
In Social Selling we talk a lot about Targeting the right audiences, social listening, connecting, building relationships and earning the right to present our goods and services as well as this approach shortening the sales and buying cycles compared to more traditional marketing methods.
We also look at warm audiences and cutting out the need for "cold calling" and interrupting people online and we do not like disruption marketing in any shape or form!
Pop-ups, forms appearing to capture your email, follow up calls 5 minutes after submitting details etc are all big No-Nos for Social Selling. Thankfully players like Google have clamped down on some of this in 2017 especially with them frowning upon pop-ups etc on websites and penalizing people for using these with a degree of downgrading in SERPs.
However, if you need to build a business quickly, then you need, for a short season, to build your connections at scale and build your database before you can start the Social Selling Process outlined above. That is the reality especially for the smaller Businesses whom I introduce to Social Selling. They do not have the luxury of overflowing CRM systems and Data and have to start from what is often a blank sheet and disadvantage
This is where we need to be using Ads for clients to make those initial connections to build their database and Sales Funnel and there is an element of interruption and cold calling online in this approach, but it is a necessary short-term act to build the business for effective Social Selling
But what happens when the data that fuels those Ad campaigns such as emails, phone numbers become subject to Data Protection Laws such as the GDPR coming into force in the EU, including the UK, in May 2018 and also applicable to any EU citizens data wherever in the world that is kept or processed?
Who now owns your data, who is responsible for complying with the legislation and is it worth even holding data anymore? One large Food and Drinks chain in the UK deleted hundreds of thousands of contact details because the risk was not economically viable for them to take in terms of holding that data….
Because of a rise in 2018 of caution in capturing, holding and processing data and the fear that this will become too onerous for Businesses, especially micro and small businesses, then in the light of GDPR, I predict people will change strategy in terms of data.
More people will rely on Pixels and Tracking codes to engage and retarget potential clients directly on Social Platforms and building email lists will actually see a massive nosedive in 2018 because the risk is too high for non-compliance with GDPR and its offshoots….
Interruption marketing will actually increase as people engage cold audiences and seek to connect and engage from a previously unknown position. This will be seen as a necessary tool and strategy to employ in contrast to succumbing to the risks of Data Capture, Retention and Management and GDPR compliance for a majority of Businesses.
Although Cold Calling itself will not rear its head, engagement with cold audiences will increase as data retention decreases being used for the development of custom audiences, seeing engagement on, in and through Social Platforms using Pixels, Ads, Bots, Messages and Retargeting techniques becoming a major foundation of Social Strategies for Businesses in 2018
The challenge is then how to graft this approach into the principles and ethos of Social Selling…but I am sure a few disruptors and innovators will emerge and light up the way for all in 2018!
So there you have it, my 3 predictions, not all of them shocking or totally new, but all very relevant and scaling themselves up enormously in 2018…Are you ready and willing to rise to the challenge in 2018?
Jaz Greer is a top 60 Social Media and Social Selling influencer who provides coaching and consultative service to businesses helping them to adapt their processes and strategies to maximise the benefits of Social Media and Digital Tools in driving their Growth and Social Presence Success both now and into the future.
 Jan Barbosa Is a global brand ambassador for beBEE.com, also an Onalytica 2016 Top One Hundred  Augmented Reality Influencer and Interested in Social Media, Influencer Marketing & Artificial Intelligence. 
As a technology advocate, he strongly participates in areas as Artificial Intelligence, Augmented Reality, Virtual Reality, and Cyber Security.
All articles are initially published in beBEE.com using the superb beBEE Producer tool

No tienes grupos que se ajusten a tu búsqueda